Join Reef Relief's Responsible Sunscreen Campaign!
Are you a Responsible Sunscreen Provider or Business?
If your business provides or sells sunscreen that does not contain Oxybenzone or Octinoxate, then you qualify to join us! Each business will receive get an educational poster to display in their store front.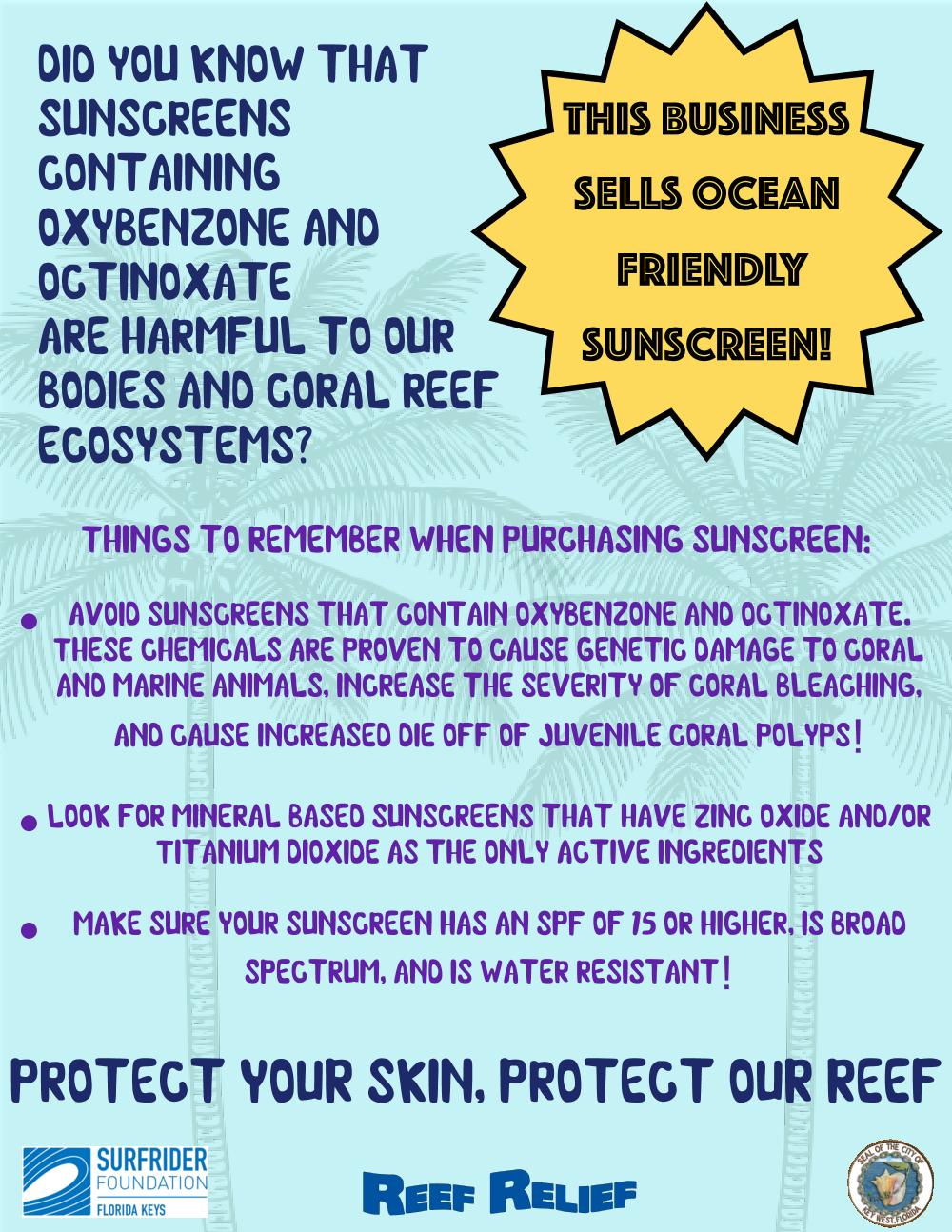 The Coral Reef is the most biologically diverse ecosystem in the world, and we need to ensure that we work hard to protect the ocean from harmful chemicals, in addition to other damaging practices like oil and gas extraction
The goal of this campaign is to educate visitors and community members on which sunscreen products are safe for our bodies and the coral reefs. We are also highlighting the amazing businesses who are working with us to inform the public and protect our coral reef ecosystems.
E-mail us at [email protected] or call us at 305-294-3100 if you are interested in signing the pledge to sell only responsible sunscreen. We will be happy to drop off signs to any stores who are interested!
If you are wondering to look for when purchasing a sunscreen check out this page : What to Look For & What to Avoid When Choosing A Sunscreen.
If you are an individual looking to join our campaign, continue to spread the word and advocate for bans on reef harming sunscreens! Inform your friends and family about the importance of using mineral based sunscreen. Ensure that your local stores are selling only ocean friendly sunscreen, contact Governor DeSantis. You can ask your federal representatives to support the first federal bill to ban oxybenzone and octinoxate sunscreens in National Marine Sanctuaries with coral reefs!
To learn more about the Sunscreen Ban check out Stream2Sea's page here.
---
THE MARKER KEY WEST RESORT BECOMES THE FIRST HOTEL IN FLORIDA TO ADOPT ENVIRONMENTALLY REEF-FRIENDLY RAW ELEMENTS SUNSCREEN DISPENSERS.
Reef Relief is excited to announce the installation of two Raw Elements Mineral Sunscreen dispensers at the Marker Key West Resort. This project is a part of Reef Relief's safe sunscreen campaign to encourage people to use mineral sunscreen.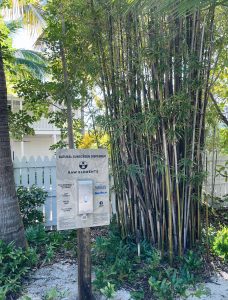 The dispensers allow guests to have free access to sun protection that is safe to apply to skin,
and keep the environment safe from unnecessary chemicals. Chemicals such as oxybenzone and
octinoxate have proven to cause genetic damage to coral and marine animals, increase the
severity of coral bleaching and cause hormone disruption in humans.
If you're interested in learning more about this project, or would like to discuss installing sunscreen dispensers at your business, email [email protected] 
---