Welcome to Reef Relief's Virtual Marine Science Classroom. We are excited to get started exploring our amazing oceans with you!
How it works:Reef Relief has created 8 marine science units that are appropriate for students of all ages, homeschooling families, and teachers who would like to incorporate marine science into their classroom. Each monthly unit comes with 4-6 hours of course material including educational videos and various supplemental activities. While not required, it is recommended to schedule time for one marine science unit each month (one hour of classwork a week).Each unit will cover a specific topic and will incorporate lessons, interviews with scientists, virtual field trips, science experiments, worksheets, quizzes, and other hands on activities.
How to sign up:  Registration is now open. Visit https://reefrelief.myshopify.com/collections/virtual-classroomto register or call 305-294-3100 to register by phone. Each virtual unit is $20. *Once you have registered for a specific unit, you will receive an email confirmation that will include all needed classroom information and your permanent access code to all videos and supplemental materials.*
---
Materials needed: With your subscription, you will gain access to over 80 different electronic worksheets, supplemental videos, and other online resources. Worksheets and some materials need to be printed out before starting a lesson. For some lessons, you will also need a pen and paper. If you do not have access to a printer, please contact Reef Relief at 305-294-3100. We are happy to assist you in acquiring materials before the start of a unit.
In order to register, students or parents will need to make a Gmail account in order to access Google Classroom, our learning platform.
If you have any other questions about coursework, pricing, or registration, please call us at 305-294-3100 or email us at [email protected].
---
Unit Descriptions:
Students will learn the different biomes and ecosystems on our planet and the organisms' roles within each system. Students will then have the opportunity to learn about specific marine environments such as the Coral Reef, Mangroves, Seagrass Beds, the Deep Ocean, and more!
Fish come is several shapes and sizes! You will learn about what a fish is and their various adaptations the have to survive the marine environment. We will discuss specific species, their life history, and if there really are "plenty of fish in the sea".
We will take a look at some our more popular ocean residents. We will be learning about dolphins, whales, sea turtles, sea birds, and more! We will also take a look at the various rescue and rehabilitation practices used in order to protect some of our most vulnerable species.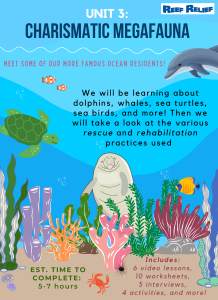 Did you know that 98% of living organisms on the planet do not have a backbone? We will learn about what a marine invertebrate is, why they are important to the ocean, and how to categorize animals without backbones.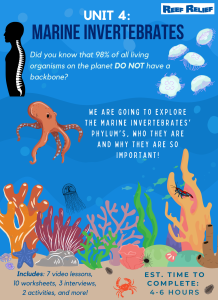 How does the ocean work? Why is it salty? Why is it blue? These questions and more will be answered as we explore the geology, chemistry, and physics of the ocean.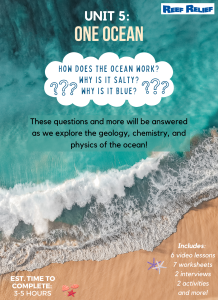 There are so many ways to turn your passions into an oceanic career! We will be talking to professionals about how they made a career while working with the ocean, advice they have in pursuing a marine science career, and why this career path is so important.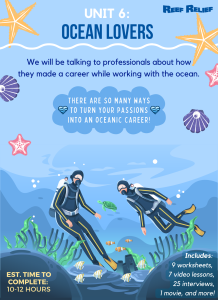 What is happening to our planet? We will talk about past and current events that are impacting our planet. Some topics include climate change, pollution, plastics, and near shore water quality. Students will brainstorm solutions to the many challenges we are facing.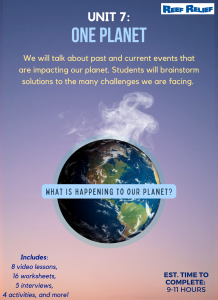 Change begins with you! Let's explore all the good happening in the world and the people making a difference to help this planet. New technology, management practices, and habits are the key to helping our planet and it starts with each and every one of us.