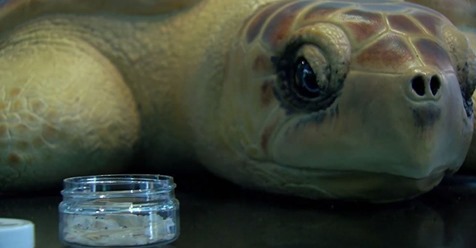 Link: https://abcnews4.com/news/local/turtle-recovering-at-sc-aquarium-after-ingesting-at-least-136-pieces-of-plastic?fbclid=IwAR2vZKTvPWsQuF07xPrgsaME0iqgB7bfbYZBlWrhO0QS9ut-0Jd3Kz6RG2Y
"CHARLESTON, S.C. (WCIV) – It's no secret that single-use plastics hurt wildlife. But caregivers at the South Carolina Aquarium didn't expect to find a young sea turtle ingest more than 100 pieces of plastic.
Down in what's called "the basement," there's a turtle known as Michael Myers. Caregivers at the Sea Turtle Care Center named him after the masked horror movie villain.
"Michael Myers is a juvenile green sea turtle who came to us on Halloween night," said Melissa Ranly, manager of the Sea Turtle Care Center. "He came to us with a real serious laceration after he was found beached in Garden City, South Carolina."
Ranly said the really frightening part came a few days later, when they discovered what was inside him—plastic. To date, they've recovered 136 pieces of plastic, which Ranly said the turtle has passed on his own. She said it's not uncommon, but it is alarming for a turtle his age, adding it's the most plastic their team has ever recovered from a single patient.
"For a turtle that size, he weighs less than five pounds, to have that much foreign material in their digestive tract is really frightening," Ranly said. "That's something for a young turtle, it's very hard for them to distinguish what's food and what's not."
While they're hopeful he'll make a full recovery, she said he'll be under their care for several weeks. She said it's a teachable moment, adding there's a way for people to help once a turtle leaves the hospital. As we head into the holiday season, she said they're encouraging people to think before they gift.
"Michael Myers is a perfect example of why we encourage everybody to limit their single-use plastic reliance using reusable shopping bags," she said. "Buying locally and wrapping your own presents in newspaper, comics, even reusable gift bags or reusable shopping bags that people use is a great option and a great alternative. Aside from using sustainable paper, make sure you're not using plastic ribbon, even some of those bows can break down in the environment."
There's a number of ways to donate to help the Sea Turtle Care Center. CLICK HERE for more information."