FOR IMMEDIATE RELEASE
JUNE 3, 2015
Court Date Set for Case in Bid to Open Bonaire National Marine Park to
Development
Bonaire, June 3, 2015 – On Monday, June 8, 2015, the BES Court of First
Appeals will consider objections to government actions aimed at opening the
Bonaire National Marine Park to commercial development.
The case will be heard at th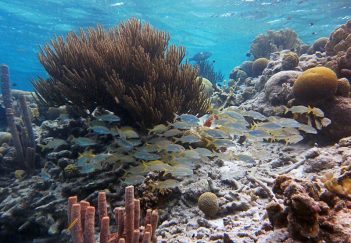 e Court of Justice, Fort Oranje, Plasa Reina
Wilhelmina in Kralendijk beginning at 9 a.m. and is open to the public.
The appeals challenge the government¹s approach in attempts to alter
existing marine protection laws to attract commercial development in Marine
Park waters. Regarding OLB changes to the Marine Environment Ordinance and
the Spatial Development Plan, plaintiffs point out failures to sufficiently
consider the public interest; enforce existing law; follow legal procedures;
and adequately assess economic, social and environmental impacts.
The plaintiffs have emphasized the importance of this case to not just the
future of Bonaire¹s coral reefs, but to Bonaire¹s economy as well.
Researchers studying the ongoing decline of the island¹s coral reefs have
stressed the necessity of the precautionary principle when making decisions
that will affect the marine park, Bonaire¹s major tourism draw.
The appeals were filed by Bonaire¹s two marine conservation organizations,
STINAPA Bonaire and Sea Turtle Conservation Bonaire. Mabel Nava, Manager of
STCB commented ³Our purpose is ensure that the laws, and the principals of
good governance, are followed, because we need those tools to achieve a
secure future for Bonaire.²
³We all know that for Bonaire, a prosperous economy depends on a world-class
marine environment, and it¹s equally true that the viability of Bonaire¹s
nature depends on economic prosperity and social well-being.²
Bonaire¹s national marine park provides the main economic product of
Bonaire¹s tourism-based economy. Approximately 70%of stay-over visitors use
the marine park, and close to 50% come specifically to dive Bonaire¹s reefs..
And although Bonaire¹s reefs are among the healthiest in the Caribbean,
shallow reef coral cover on Bonaire has declined by 58% over the last 40
years. To reduce this trend, a recent landmark IUCN study underscores the
importance of legislation and regulations that protect corals from the
threats posed by coastal development. The study noted that ³positive impacts
on reef health demonstrably have spill-over effects on local economies,²
including increased tourism revenues.
Thanks,
Anouschka van de Ven
Communications Coordinator
STINAPA Bonaire
Barcadera z/n
Bonaire, Dutch Caribbean
T: +599 – 717 8444
[email protected]
www.stinapa.org
www.facebook.com/bonaire.stinapa.[/vc_column_text][vc_separator color="grey" align="align_center" style="" border_width="" el_width=""][/vc_column][/vc_row]