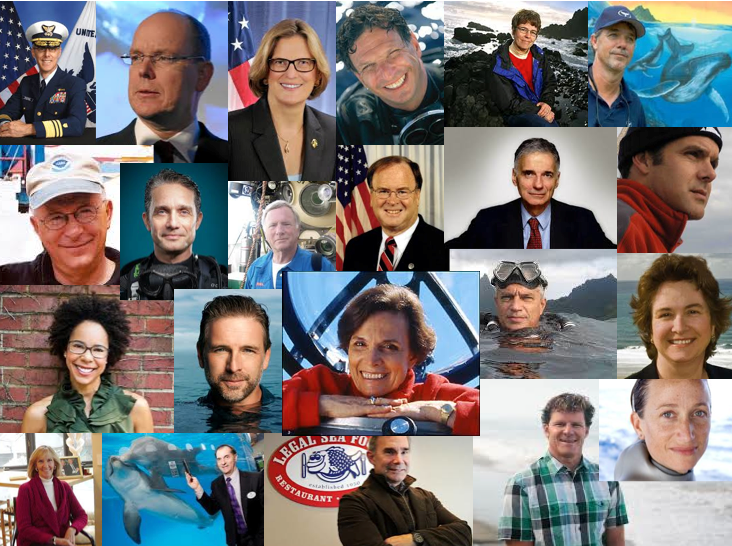 Blue Vision Summits bring ocean conservation leaders together every two years to network, build the blue movement and meet with the Administration and Congress to restore the blue in our red, white and blue. This spring some 500 people from local, regional and national groups, scientists, explorers and others will attend the Summit that will include a Healthy Ocean citizen lobby on Capitol Hill which willl be immediately followed by the 8th annual Peter Benchley Ocean Awards (PBOA). Called 'The Academy Awards of the Sea, the Benchleys recognize leaders from many walks of life finding solutions to the threats facing our blue world.
2015 Blue Vision themes include responding to the impacts from climate change, overfishing, offshore oil and plastic pollution and also, with students and youth, working to make sure that healthy public seas and the healthy economies and communities they support (both human and wild) become a national public policy priority by the 2016 Presidential Elections.
Those attending BVS5 and the PBOA8 include: Prince Albert II of Monaco, Dr. Sylvia Earle, Coast Guard Commandant Adm. Paul Zukunft, Coast Guard Vice-Commandant Admiral Peter Neffenger, NOAA Administrator Dr. Kathy Sullivan, NOAA Marine Sanctuaries Director Dan Basta, Rep. Sam Farr, Ralph Nader, Senator Brian Schatz , Senator Sheldon Whitehouse (invited), Legal Sea Foods CEO Roger Berkowitz, National Aquarium CEO John Racanelli, Fabien Cousteau, Celine Cousteau, Wyland, Wendy Benchley, Enric Sala, J. Wallace J. Nichols, David Doubillet, Louie Psihoyos, Don Walsh, Dr. Jane Lubchenco, Dr. Ayana Elizabeth Johnson, Nigella Hillgarth, Chad Nelson, a 90-foot inflatable Blue Whale named Mz Blue, and hopefully ocean lovers and defenders like you!
BVS page can be found here, and the BVS specific posting is located here