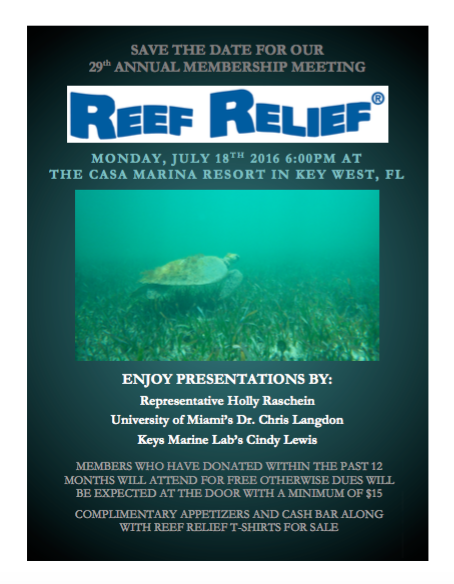 Reef Relief's 29th Annual Membership Meeting is to be held Monday, July 18th, 6-8pm at the Casa Marina Resort in their Grand Ballroom.
This years speakers include Florida State Representative Holly Raschein who will discuss water quality issues and the 2016 Florida State legislature. Dr. Chris Langdon from the University of Miami will present his research on Ocean Acidification in South Florida. Cindy Lewis of Keys Marine Lab will present their work on Pillar Coral restoration. Presentations also include reports on Reef Relief's current programs and projects. Reef Relief's volunteer of the year will also be recognized.
All members are welcome or you can join at the door. Go to www.reefrelief.org to renew online, join by phone at (305) 294-3100, mail your check to Reef Relief, PO Box 430, Key West, Florida 33041-0430, or renew your dues at the annual meeting.
Complimentary appetizers and cash bar are provided.
We hope to see you there!